Congratulations: Your firm has earned the recognition of being named: A 2018 Fastest-Growing Under $5 Million Firm and A 2018 IPA Best of the Best Firm.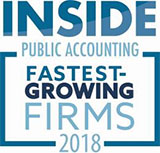 INSIDE Public Accounting (IPA) has announced its annual ranking of the fastest growing public accounting firms. IPA ranks the fastest growing firms by organic growth, which is the percentage of growth in net revenues from the previous year excluding mergers and acquisitions.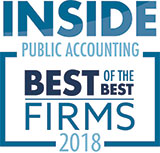 IPA's annual Best of the Best recognition honors CPA firms across the country for their superior financial and operational performance based on more than 70 criteria. The selections were based on responses from more than 550 firms that participated in this year's IPA Survey and Analysis of Firms.
Continuing the tradition of more than 25 years, INSIDE Public Accounting (IPA) has unveiled the 2018 of the Best of the Best public accounting firms in the nation. This group, the highest performers within the profession, are ranked on more than 70 metrics. The 2018 Best of the Best firms produce superior financial results while planning for long-term, sustainable growth.
Best of the Best firms represent the top 10% of all firms that participated in the 2018 IPA Survey and Analysis of Firms. IPA's proprietary scoring formula looks at a variety of metrics related to growth, income, productivity, tools of governance, staff turnover, time management and other areas that speak to the framework of the firm to determine the Best of the Best.
The IPA Best of the Best firms are presented in three categories:
Best of the Best above $5 million in revenue (50 firms ranging from $5 million to more than $600 million)
Best of the Best under $5 million in revenue (10 firms ranging from $2 million to $5 million)
Best of the Best in Canada (five firms ranging from $7 million to $30 million)